Hot Sale Chemical Anchor
We are happy to offer injection hybrid mortar to small business customers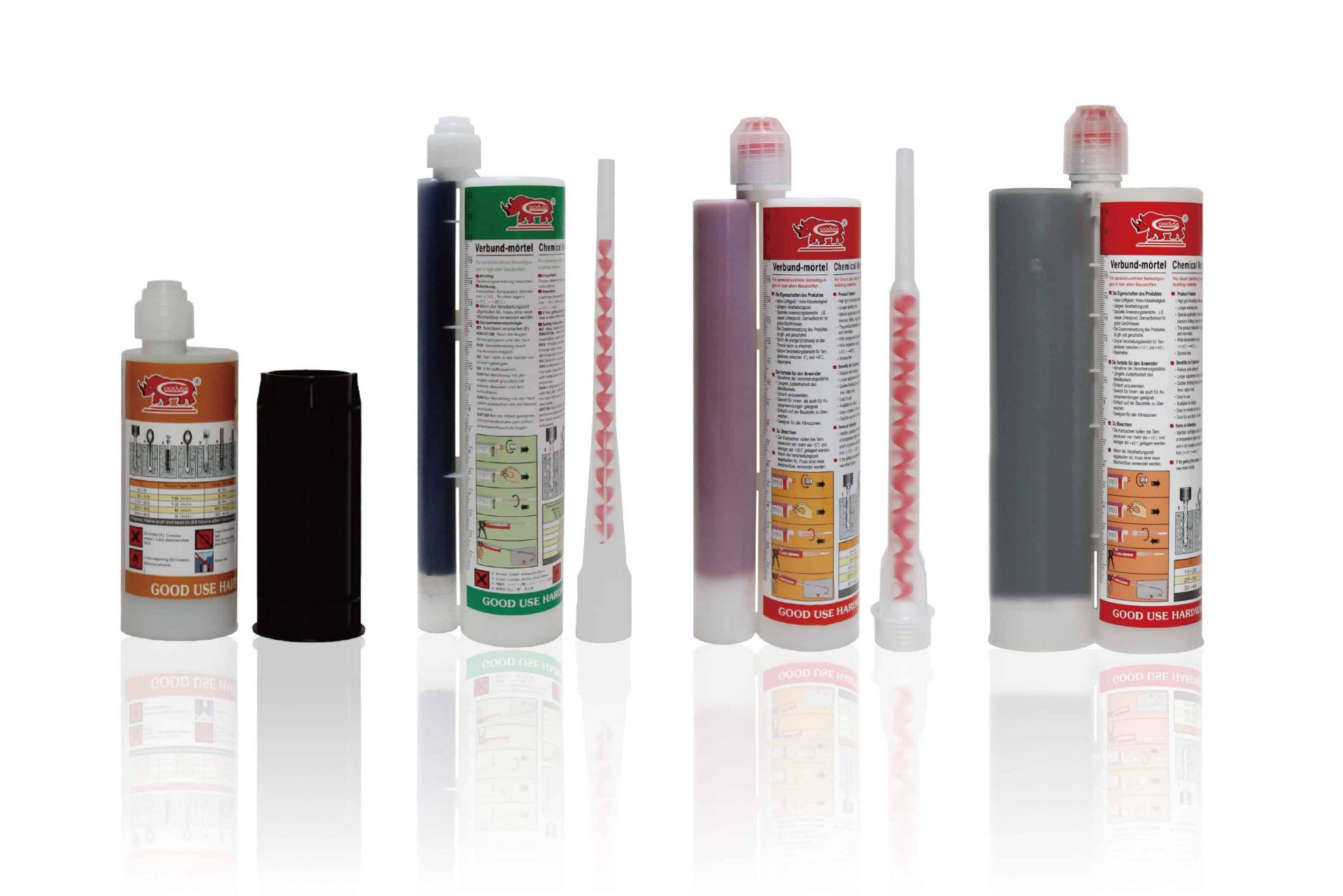 Good Use Hardware is a manufacturer for chemical anchor, but we never identify us only a manufacturer. We have our own brands GU Fixing and want to introduce it to different industries. Except of selling chemical anchor to distributors and brand customers, we are also selling chemical anchors directly to the interior design studio, architecture firm, construction industry, waterproof engineering company, and landscape horticulture design firm. Our flexible production lines could take whether small or large quantity orders, and for small orders we can ship the chemical anchor by express service for fast delivery with contract cost.
Make your projects tidy and comfortable with cartridge type anchor
Chemical anchors provide powerful fixing, the most common application is bonding rebar and concrete in construction industry. However, chemical anchor is actually largely applied in several areas due to its strong adhesion. Here are some applications of chemical anchor sharing from our customers in different industries.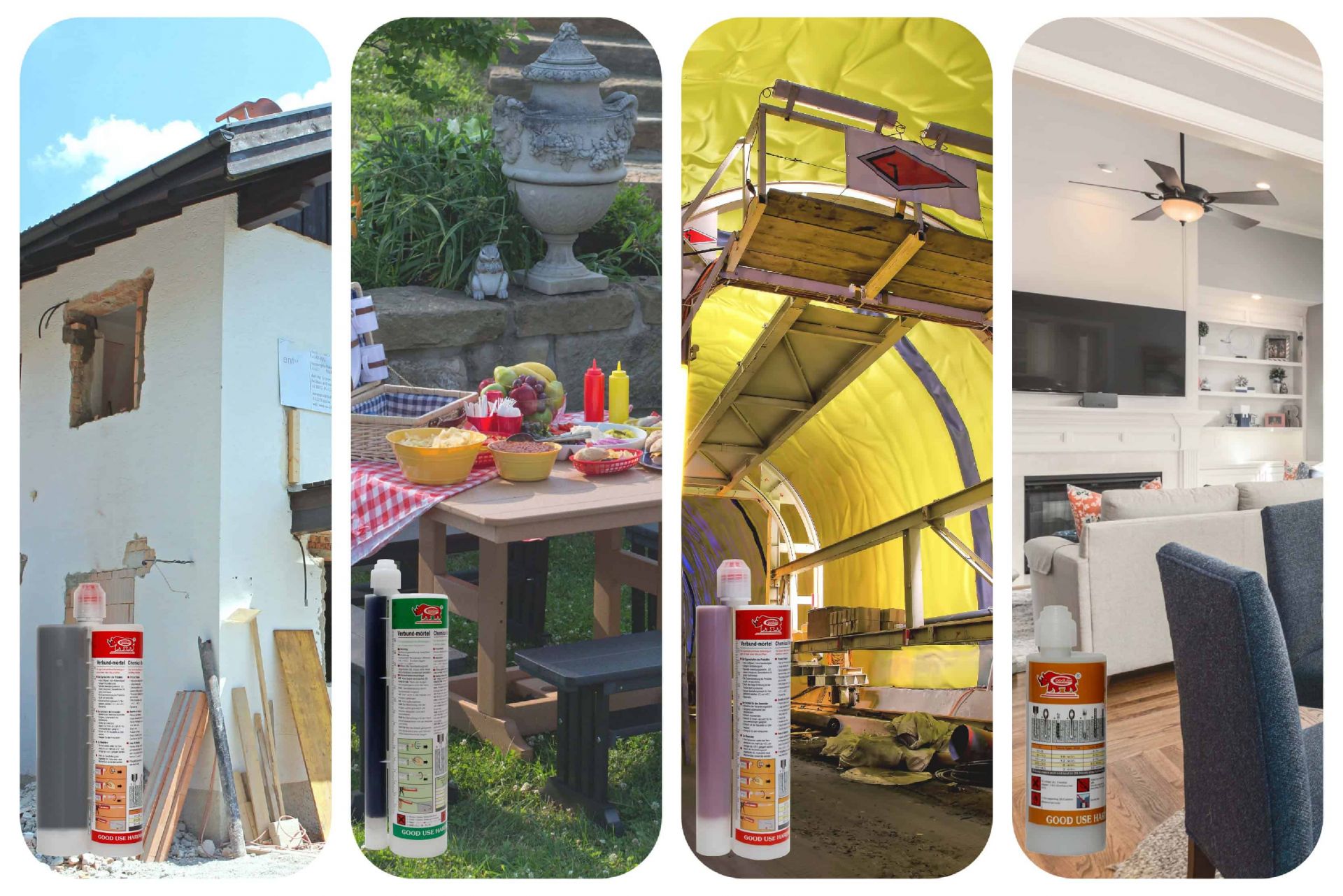 Chemical anchor used in INTERIOR DESIGN STUDIO AND ARCHITECTURE FIRM
Fixing pendant light, ceiling fan, track lighting, wall-mounted TV or stereo, decorative wall panel brick, doors and window frames, heating, ventilation, and air conditioning works (HVAC), sanitary fitting.
Chemical anchor used in WATERPROOF ENGINEERING AND CONSTRUCTION COMPANY
Scaffold fixing, increase shear strength, concrete frame structures, steel frame structures, solar energy equipment installation, fixing objects on brick, concrete, stone, marble and granite.
Chemical anchor used in LANDSCAPE HORTICULTURE DESIGN FIRM
Fixing landscape stones, outdoor lighting, yard decorations, lawn ornaments, garden statues, dog house, porch swing, outdoor awning canopy
Chemical anchor used in BUILDING REPAIR AND MAINTENANCE SERVICE COMPANY
Retrofitting of building, rehabilitation of falling stones from the facades of the buildings, reinforcement in beam and slabs, old building restructure.
No stocking cost, we can produce only 1 carton of chemical anchor for you
The minimum order quantity of Good Use chemical anchor is just 1 carton. To reach maximum cost-effective, we suggest buying the chemical anchor by full carton count to save the shipping fee and make the average unit price of chemical anchor as low as possible. We can arrange the shipment by express, air freight, or sea freight depends on the order quantity. Our experienced sales representative will find out the best way to deliver the shipment for you. We would of course offer more competitive price for those who want to purchase large quantity.
Check out the selected popular chemical anchor below.
---
Best Sale
Hot Sale Chemical Anchor | Chemical Anchor Manufacturer - Good Use
Good Use Hardware Co., Ltd. is one of prime Hot Sale Chemical Anchor | chemical anchors suppliers based in Taiwan since 1997.
Certified chemical anchor solutions with wide selections of adhesive materials including epoxy anchors, concrete anchors, resin anchors for heavy loads in rebar application, diamond drilled holes and anchoring in solid concrete. Non-drip formula, ideal for overhead installation. Chemical anchor bolt and anchor fixings included for efficient, hassle-free, labor-saving chemical anchoring.
Good Use has been offering customers certified tested high-quality chemical anchors. Both with advanced technology and 20 years of experience, Good Use ensures each customer's demands are met.
---