380ml anchoring system polyester chemical anchor
GU-100 380ml
Uncracked concrete chemical anchor bolt resin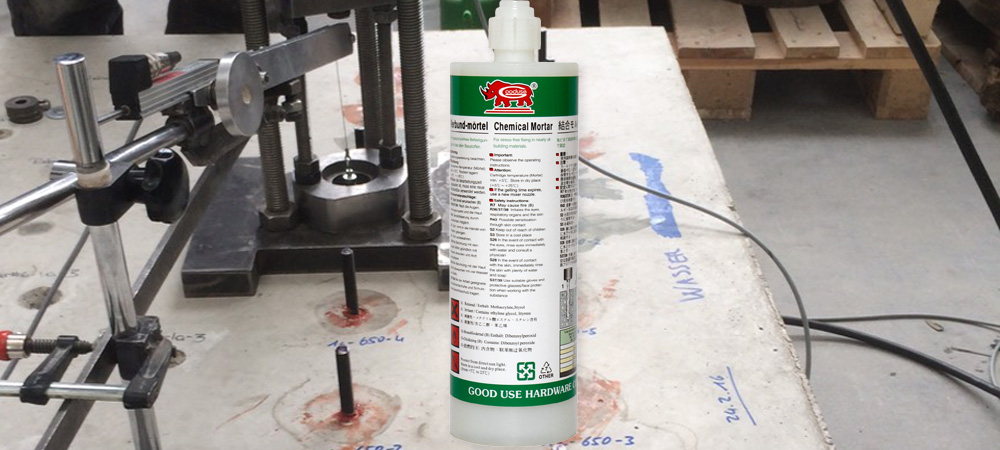 380ml polyester co-axial cartridge also called 400ml or 410ml in the market and is popular size in construction. It needs a specific caulking gun to extrude the mortar.


Polyester with styrene chemical anchor is classic and most popular material for general purpose. Economical price satisfies most fixing demands of medium loads. Applicable for rebar doweling, handrail, facade, pipelines, awnings, brackets. All of our chemical anchor had tested and approved in Germany according to EAD 330499-00-0601. There are also 150ml, 235ml, 345ml and 360ml available in the range.
سیستم تثبیت شیمیایی - پلی استر اقتصادی با استایرن
Easy setting injectable mortar for anchoring in concrete and for rebar connections. Market-oriented that we offer various volumes and cartridge design for all kinds of consumption. 150ml is co-axial cartridge with mixing ratio 10:1 for standard silicone gun which no extra dispensing tool required and satisfied one time using. 235ml is best selling size in Taiwan. Middle size of 345ml and 360ml are most popular for flexible applications. 380ml co-axial is economic volume for construction. Polyester injectable adhesive is best choice for beginner to meet mostly basic fixing demands.
مشخصات لنگر شیمیایی GU-100 Polyester
Material: Polyester with styrene
Model Number: GU-100
Size: 380ml
Shelf Life: 12 months
Mixing Ratio: 10:1
Mixed Color: Gray
Standard Package: One cartridge with one mixer
Other Accessory: Mixer, caulking gun, nylon sleeve, air pump, brush
Good Use polyester chemical anchor is fast curing injection adhesive
Loading strength approved by Germany lab
No expansion effect and allowing fixing close to the edges
Low level of volatile organic compounds (VOC) according to LEED test
Cost-efficient and long durability
Suitable for vertical or horizontal fixings
Medium loads for general anchoring purpose
Private label or customized design by demands
All Good Use chemical anchors have done sustained loads test at IWB lab in Germany
There is no qualified lab with equipment for testing bonding anchor according ETA regulations in Asia. All our items are tested by EAD 330499-00-0601 which is comprehensive plan for both of rebar and threaded rods. We cooperate and consult with leading experts in Europe who dedicate in the fasteners field for more than two decades. We keep improving our research capacity and upgrade international approvals of chemical anchor.
Polyester for anti-collapse fixture, market-oriented and cost-effective formula
In special conditions required excellent fixture capacity for anti-collapse or vibration resistance. Chemical adhesive strength is better than traditional mechanical fixture. It's more sustainability and durability for long term using. For general application of fixture, polyester is acceptable price and satisfied performance for most demands. It's common, mature item and widely apply to construction.
داده های تکنیکی
CHART 1. SOLID SUBSTRATE REBAR INSTALLATION DETAILS
Pressure

Destroy Haul Strength


(Kgf/KN)

Safety Haul Strength


(Kgf/KN)

Working Standard


(mm)

Concrete Strength
4,000 psi
280 kg/cm2
4,000 psi
280 kg/cm2
Hole Diameter
Hole Depth

Rebar
No.

#3
(Φ10)
3,070
31.0
1,023
10.0
13
90
#4
(Φ12)
4,920
49.7
1,640
16.6
16
120
#5
(Φ16)
6,800
68.7
2,267
22.9
20
145
#6
(Φ20)
7,708
77.9
2,569
25.9
25
170
#7
(Φ22)
9,440
95.4
3,147
31.8
28
200
#8
(Φ25)
13,620
137.6
4,540
45.9
32
225
#9
(Φ29)
20,340
205.6
6,780
68.5
37
250
#10
(Φ30)
26,620
269.0
8,873
89.6
40
290
Remarks:
1. Concrete Strength fc': 280kg/cm2 (4,000 psi)
2. Rebar Strength: #3~#5 fy: 2,800 kgf/cm2, #6~#11 fy= 4,200 kgf/cm2
CHART 2. CURING TIME TABLE
Temperature (°C)
Gelling
Full Curing
0~5
 
8 hr.
5~10
40 min.
7 hr.
10~20
30 min.
6 hr.
20~30
8 min.
3 hr.
30~40
3 min.
2 hr.
Please make pull out test over 24 hours after full cured.
CHART 3. FIXING CONSUMPTION PER CARTRIDGE
Anchor Size
Hole Diameter
(mm)
Hole Depth
(mm)
Number of Fixings
235ml
280ml
345ml
360ml
380ml
M8
10
80
47
56
69
72
76
M10
12
90
29
34
42
44
47
M12
14
110
17
21
25
27
28
M16
18
125
9
11
14
14
15
M20
24
170
4
5
6
6
6
M24
28
210
2
3
3
4
4
M30
35
270
1
1
2
2
2
M36
40
330
1
1
1
1
1
Note: Based on continuous installation without interruptions or nozzle changes. Provided as a guide and will vary with temperature.
How to install chemical anchor?
1. Drill the specific hole size and depth. 2. Clean dust with brush and air blow pump. 3. Press out unmixed resin which can't be used. 4. Inject mixed resin into drilled hole and fill from the bottom. 5. Insert rebar/threaded rod/steel strip. Curing time refer to TDS. Don't touch until full curing. The installation process will affect the bonding performance of chemical anchors.
Related Products

---

Files Download

---

Gun Installation Guide

گالری
---
Hot Products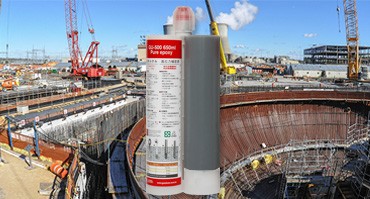 Professional epoxy resin
Excellent bonding strength for rebar connections and extension anchoring. Bridges, civil structures, retrofitting.
ادامه مطلب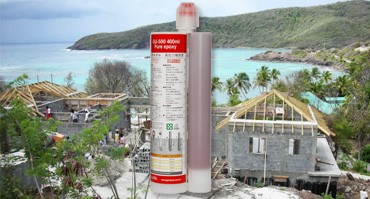 High temperature epoxy resin
Suitable working time for use in tropical climate. Fixing diamond drilled holes, deep embedment depths, large diameter rebar.
ادامه مطلب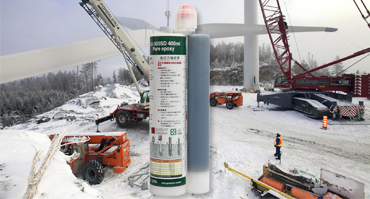 Winter concrete epoxy resin
Special winter formula for anchoring at low temperature. For dry, wet, water saturated concrete.
ادامه مطلب