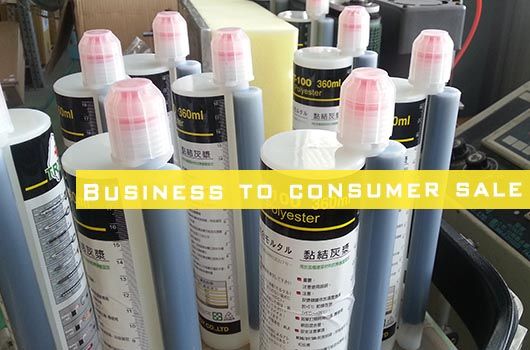 B2C
Chemical anchor is safe and eco-friendly adhesive for most fixing works
Chemical anchor is known as a common material in construction industry. It is widely used in construction projects just like concrete and rebars. It is no doubt that chemical anchor did show its outstanding performance on fixing. After so many years, the demand of chemical anchor is still going up that means the world is progressing and people want to have a better and safer life. More requirements for civic construction, residential buildings, and old building renovation, reinforcement and retrofitting.
---
Chemical Anchor Is Commonly Used For Anchoring In Diversified Fields
By knowing the advantages of chemical anchor, Good Use Hardware is trying to find new applications in other industries these years to share such good and convenient products with the market. Now our customers are not only from construction industry, but also from building repair and maintenance service company, interior architecture design studio, waterproof engineering company, landscape horticulture design company, and individual consumers.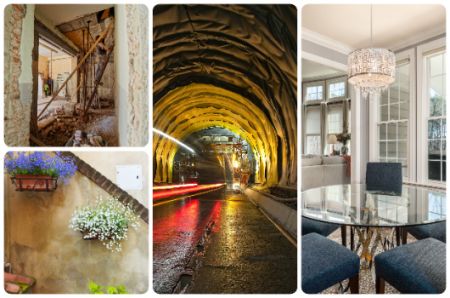 Get Direct Information & Support Of Injectable Adhesive Anchor From Us
There are more benefits when you purchase chemical anchor directly with us. You can get everything you need from us and no need to count on third party. The price we offer is fair and competitive, and the chemical anchors you order are guaranteed new-make. More important, we are expert in chemical anchor industry and understand every detail and feature.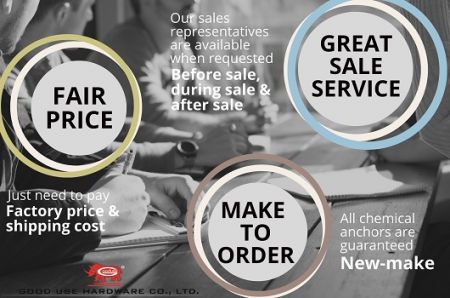 Good Use E-Catalog
Find our full catalog of chemical anchoring range

İndirmek
B2C | Chemical Anchor Manufacturer - Good Use
Good Use Hardware Co., Ltd. is one of prime B2C | chemical anchors suppliers based in Taiwan since 1997.
Certified chemical anchor solutions with wide selections of adhesive materials including epoxy anchors, concrete anchors, resin anchors for heavy loads in rebar application, diamond drilled holes and anchoring in solid concrete. Non-drip formula, ideal for overhead installation. Chemical anchor bolt and anchor fixings included for efficient, hassle-free, labor-saving chemical anchoring.
Good Use has been offering customers certified tested high-quality chemical anchors. Both with advanced technology and 20 years of experience, Good Use ensures each customer's demands are met.