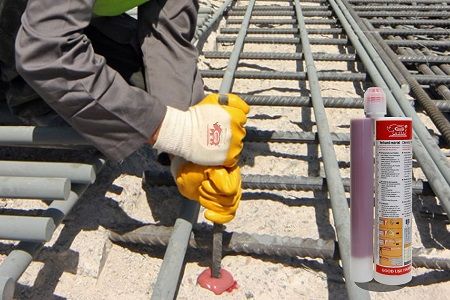 Produkte
What is chemical anchor used for?
Connection, extension, join and strengthening for new structure or existing concrete structure from residential buildings to bridges. Extend existing structure like wall extension, column extensions, beam extensions, slab extensions, balcony extensions. Post-installed rebar is less limited and useful for structure reinforcement than concrete covered cast-in place bars. It can be for easy fixings in house or large civil infrastructure. Applications is flexible and wide that all you can find here with full range of chemical anchor.
---
HOW TO DISTINGUISH THE QUALITY OF CHEMICAL ANCHOR?
The load value is key feature of injectable adhesive which has superior bond performance than mechanical fasteners. The manufacturer provides bond strength table or testing report by approval lab for reference. But under different installation conditions like weather, concrete, hole cleaning, installer at construction sites, the result come out differently. So proper installation procedure, right products, suitable testing equipment and trained installer effect the quality.
HOW TO CHOOSE THE RIGHT CHEMICAL ANCHOR?
According to the applications and environment to select proper adhesive anchoring system. There are longer curing time and fast curing time anchoring adhesive, high temperature or cold weather version, epoxy for hammer drilled holes or diamond core drilled holes and so on. Please contact us with your demands.