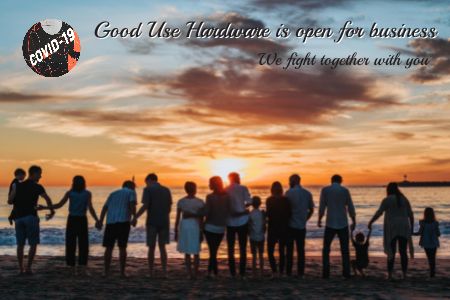 Coronavirus update-Good Use Hardware is here with you
Somos conscientes de que el coronavirus se ha estado propagando rápidamente por todo el mundo y es un grave problema de salud pública. Muchas fábricas y empresas se han visto obligadas a cerrar temporalmente para evitar una mayor infección por Corona. Proteger a nuestros empleados y sus familias, así como a nuestros clientes y socios es nuestra primera prioridad. Hemos tomado medidas solicitando que todos los empleados usen máscara durante el trabajo y estén completamente preparados para combatir el virus. Queremos que sepa que estamos funcionando bien y que todavía estamos abiertos al público. Todas las líneas de producción de anclaje químico funcionan bien y están listas para recibir más pedidos en cualquier momento. No dude en ponerse en contacto con nosotros si tiene alguna consulta sobre anclaje químico, precios y pedidos. Good Use Hardware está aquí con usted para superar este momento crítico.
---
Good Use E-Catalog
Find our full catalog of chemical anchoring range

Descargar
Good Use Coronavirus update-Good Use Hardware is here with you Introduction
Good Use Hardware Co., Ltd. is Taiwan supplier and manufacturer in producing chemical anchor in the industry. Good Use has been offering our customers high quality injection cartridge, chemical mortar, chemical anchor, anchor capsule, polyester resin,vinylester resin, epoxy acrylate resin, pure epoxy resin, styrene free resin, mixer nozzle, static mixer, plastic mixer, injection gun, caulking gun,dispenser,dispensing tool, dispensing gun, resin anchor since 1997. With both advanced technology and 20 years experience, Good Use always make sure to meet each customer's demand.