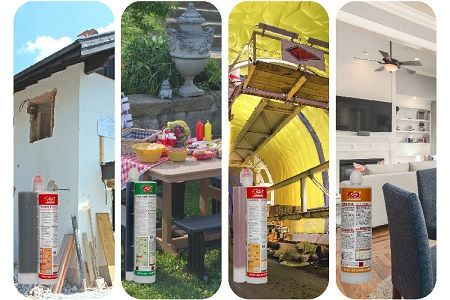 Hot Sale Chemical Anchor
We are happy to offer chemical anchor to small business customers
Pure epoxy anchor adhesive is the most popular item among our chemical anchor series. It's preferred to use in building repair and construction projects due to the powerful bonding strength. For those who need fast curing, Polyester chemical anchor and Vinylester hybrid mortar are ideal options. Polyester chemical anchor is suitable for medium load fixing works and the cost is inexpensive. Styrene free Vinlyester hybrid mortar is popular for interior and building façade fixing projects. Chemical anchor is first choice for fixing works.
---
Don't Worry About The MOQ! We Accept 1 Carton Order For Chemical Anchor
To reach maximum cost-effective, we suggest buying the chemical anchor by full carton count to save the shipping fee and make the average unit price of chemical anchor as low as possible. We can arrange the shipment by express, air freight, or sea freight depends on the order quantity. Our experienced sales representative will find out the best way to deliver the shipment for you. We would of course offer more competitive price for those who want to purchase large quantity.
Penggunaan yang Baik E-Katalog
Temukan katalog lengkap rentang penahan kimia kami

Unduh
Hot Sale Chemical Anchor | Chemical Anchor Manufacturer - Good Use
Good Use Hardware Co., Ltd. is one of prime Hot Sale Chemical Anchor | chemical anchors suppliers based in Taiwan since 1997.
Certified chemical anchor solutions with wide selections of adhesive materials including epoxy anchors, concrete anchors, resin anchors for heavy loads in rebar application, diamond drilled holes and anchoring in solid concrete. Non-drip formula, ideal for overhead installation. Chemical anchor bolt and anchor fixings included for efficient, hassle-free, labor-saving chemical anchoring.
Good Use has been offering customers certified tested high-quality chemical anchors. Both with advanced technology and 20 years of experience, Good Use ensures each customer's demands are met.