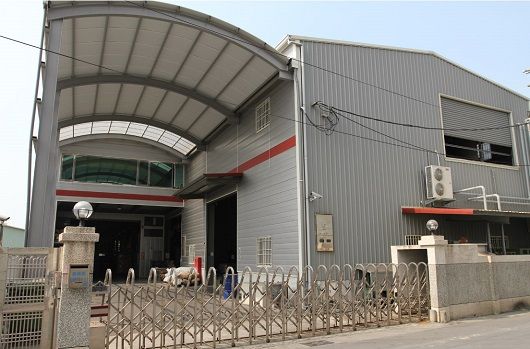 Company
Welcome to Good Use Hardware- The professional chemical anchor manufacturer
GOOD USE HARDWARE CO., LTD. is specialized in manufacturing and developing injectable chemical anchor adhesive. With more than 25 years mature experience and reputation in the chemical fixing industry, we devoted to research on ultimate performance and quality stability of epoxy anchoring in concrete. We are capable to produce bonding adhesive by request to meet the diverse applications.
---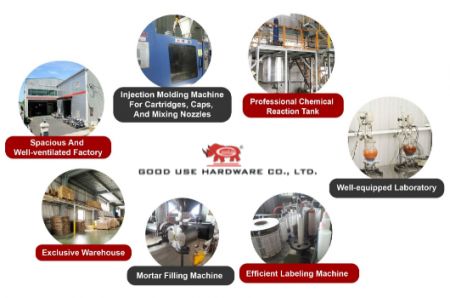 Group Organization- 100% Produced In House Chemical Anchor
GOOD USE HARDWARE CO., LTD comprehensively integrate resin development, injectable cartridge design and chemical anchor production which is sufficient ability to expand production scale, cost control and quality inspection. Not every chemical mortar supplier owns the technology of cartridge injection and resin development. Most of them are outsourcing the cartridge and resin that might produce by recycle materials and are difficult to control the quality or cut down the cost. If you have chance to visit our factory you will find out we only use brand new PP and nylon for injection chemical anchor accessories included diverse volume injectable two-component tube, cap, mixer, and nylon sleeve. We produce by order, so our chemical anchor is always with the latest manufacture date. Our standard daily production capability is 5,000 set by one shift and one line.
MILESTONE- Never Stop Developing Injection Chemical Mortar
With more than 25 years in the industry of chemical anchor, GOOD USE HARDWARE CO., LTD are the pioneer of injectable type bonding fasteners in Taiwan. From very small scale to qualify and well-known factory, we strive and grow up step by step with limited source. We sincerely thank for customers' support and market trend sharing that indicates where we have to improve. Nowadays the market demands for chemical anchor is changing faster. More developing countries acknowledge the advantage of bonding anchor using on construction and developed countries have already employed bonding fasteners for decade and pursue crucial installation with approval. The challenge we face recent years is CE mark and ICC for chemical anchor products. Experienced and reputed factory is not enough to satisfy customers, so all our chemical anchor series are tested the performance in Germany lab for rebar and threaded rod. We are able to provide the sustained load report for customers to compare and evaluate the data. The CE mark is proceeding and ICC will follow up.