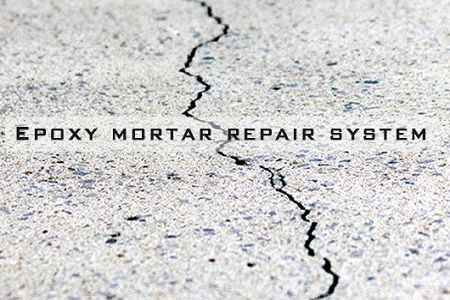 Epoxy Can System For Repair Works
Manual mixing epoxy resin for multiple repair and bonding demands
Epoxy resin is useful filler, sealer, and adhesive and it is easy to use. Resins and hardeners are packed in two separate cans. Mix can A and can B using a stick in a separate container to eliminate waste. Use the mixed well epoxy mortar to fill cracks, seal a floor or surface or use as an adhesive for bonding purpose. It is easy to bond diverse substances for a wide range of applications. Suitable for concrete, asphalt cracks, wooden furniture, marbles etc. Pure epoxy has high adhesion, stable property, and great resistant to a broad range of chemicals such acids and alkalis etc. It is also styrene free and has VOC approval for indoor application.
---
Good Use Hardware provide 3 types of Epoxy Can System
GUCS-01 is thick epoxy mortar and is available for bonding parts together and repair works on wall, road, and corner.
GUCS-02 is clean epoxy resin and suitable for wooden construction repair or use as an adhesive to connect wooden/plastic/glass/ceramic/steel materials.
GUCS-03 is liquid epoxy adhesive and is a great option for repair holes, cracks or gaps by filling.
Good Use Epoxy can system have conducted multiple tests at SGS testing laboratory. The tests are followed the test method of ASTM D2471-99, C882-05e1, D4541-09e1, D570-98(2010)e1, D695-10, D638-14, G154-12a, D1525-09, D543-06, D1204-14, D1475-98(2008), D2196-15, D92-12b, and SCAQMD 304-91.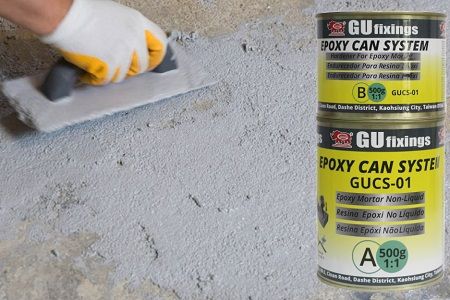 GUCS-01
GUCS-01 adalah perekat struktural epoksi viskositas tinggi. Saat mencampur resin dan pengeras,...
rincian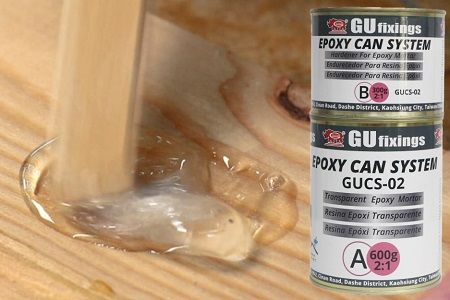 GUCS-02
GUCS-02 adalah perekat epoksi cair bening. Karena ikatannya yang kuat, dapat digunakan sebagai...
rincian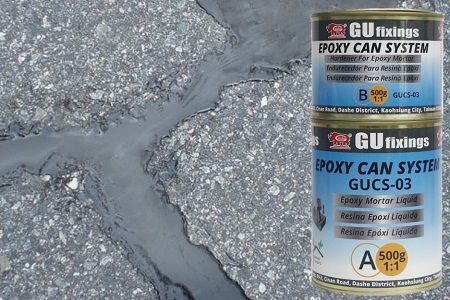 GUCS-03
GUCS-03 is liquid epoxy mortar and can be poured into holes or cracks directly or used with...
rincian
Penggunaan yang Baik E-Katalog
Temukan katalog lengkap rentang penahan kimia kami

Unduh
Epoxy Can System For Repair Works | Chemical Anchor Manufacturer - Good Use
Good Use Hardware Co., Ltd. is one of prime Epoxy Can System For Repair Works | chemical anchors suppliers based in Taiwan since 1997.
Certified chemical anchor solutions with wide selections of adhesive materials including epoxy anchors, concrete anchors, resin anchors for heavy loads in rebar application, diamond drilled holes and anchoring in solid concrete. Non-drip formula, ideal for overhead installation. Chemical anchor bolt and anchor fixings included for efficient, hassle-free, labor-saving chemical anchoring.
Good Use has been offering customers certified tested high-quality chemical anchors. Both with advanced technology and 20 years of experience, Good Use ensures each customer's demands are met.