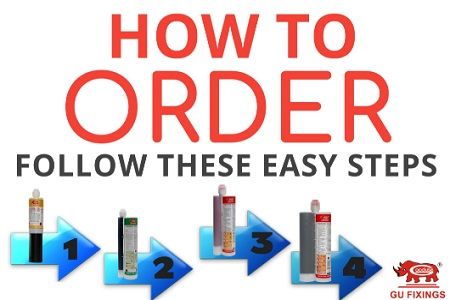 How To Order Chemical Anchors Online
It is always easy to do business with Good Use Hardware. If you are interested in any of our chemical anchors and wish to purchase it, you can simply place order at Good Use Hardware Online Shop. Please follow the introduction on how to place an order.
---
Step 1. Choose Your Chemical Anchor
Going to Good Use Hardware Online Shop. https://gooduse.en.taiwantrade.com/online-shop
1. Choose "Carton Pack Chemical Anchor" in the left-hand side and choose the series you want to purchase.
2. Choose the quantity you need.
3. Click "Buy Now" button.
4. Now you can review the items you have ordered and you can continue shopping by clicking "Continue Shopping" or click "Check Out" to process the order.
5. By clicking on the cart icon in the upper right-hand corner, you can check your shopping carts' contents.
Step 2. Register And Login
1. If you are a registered customer, please sign in. If not, you can sign up by Facebook, google, twitter, LinkedIn account and set up a password and then login.
2. When you login, you can see the unfinished order and a list of the products you have chosen, together with the quantity and price. If you want to remove a product, click on the remove on the right side of the price. If you want to change the quantity, click on +/- button next to the quantity. To continue, click "PROCEED TO PAYMENT".
Step 3. Confirm Your Shipping Information And Payment
1. Enter your shipping details by click on "Edit" and ensure your data is correct.
2. Enter your billing information. If your billing information is the same as shipping address, click on a tick right beside the billing information. Your shipping address will be copy to the billing information automatically.
3. Review and confirm your order, we only provide DHL expresses service at the moment. The shipping costs and estimated delivery times will present together with the shipping methods. If you wish to use other shipping methods, please contact us.
4. Select PayPal as the payment method. You can pay by credit card via PayPal even you don't have PayPal account.
5. Agree to have your personal data processed and agree to the terms and conditions, please click on a tick "I have read and agree to Disclaimer" and click on the button "Pay Now"
6. Once you done the payment, you should receive an order confirmation email.
7. If you have problem to place order online, please contact us. Our sales representative will get back to you and help you for the purchase.
Shipping Cost
We shipped online orders by DHL express service, so our customers can receive the chemical anchors within 7-10 days or even shorter. However, expensive shipping cost is always the difficulty for us while dealing with small business customers. As we know chemical anchor is weighty and one carton of chemical anchor is up to 13~15kgs. The express shipping cost is fixed. Although we cannot lower the shipping cost, but we are able to offer competitive price for chemical anchor even for small quantity order. In fact, per our experience, it is more cost saving and efficient to use express service if purchase within 3 cartons. With small quantity order, you don't have to spend time to deal with forwarders and customs brokers and pay a lot of fixed costs such like handling fee, document fee, customs fee and so on. Most important, you don't need to endure the longer transit time. Good Use Hardware only produce high quality two component injection chemical anchor, it is worth a try. If the order quantity is more than 3 cartons, we are happy to quote air freight per your preference, please contact us for more information.
How To Order Chemical Anchors Online | Chemical Anchor Manufacturer - Good Use
Good Use Hardware Co., Ltd. is one of prime How To Order Chemical Anchors Online | chemical anchors suppliers based in Taiwan since 1997.
Certified chemical anchor solutions with wide selections of adhesive materials including epoxy anchors, concrete anchors, resin anchors for heavy loads in rebar application, diamond drilled holes and anchoring in solid concrete. Non-drip formula, ideal for overhead installation. Chemical anchor bolt and anchor fixings included for efficient, hassle-free, labor-saving chemical anchoring.
Good Use has been offering customers certified tested high-quality chemical anchors. Both with advanced technology and 20 years of experience, Good Use ensures each customer's demands are met.