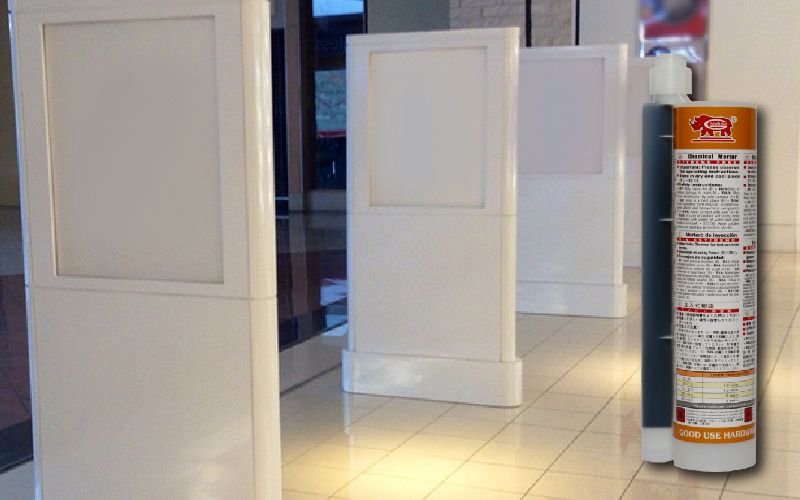 Chemical Anchor For All Types Of Fixing Demands
High loading injection vinylester mortars for machine and equipment fixings
Chemical anchor has extraordinary grip strength for fasteners and base materials which can be flexibly applied to machine foundation fixing, vertical or suspending fixing. Netherland customer has used GU-2000 vinylester hybrid mortar to fix anti-shoplifting system on the floor with ceramic tile at the retail stores. Styrene free formula is safe for indoor installations and the fast-curing property let the anti-shoplifting system can be used shortly after installation and provided sustainable weight bearing.
---
Long durability injection chemical anchor for continuous foundation fixation
GU-100 polyester anchor resin is the most popular chemical anchor series in Taiwan. In this case, our customer use GU-100 polyester anchor resin for post-installed foundation fixing to anchor the bolt before cement grouting. Polyester chemical adhesives can strongly bond the anchor bolts on the ground to make sure the bolts won't displace. GU-100 has great performance on medium loads requirement and the price is reasonable. For example, use GU-100 to fix rebar #4 with diameter 12 can hold 3,000 kgs loading.
Strong bonding injection polyester anchor for waterproof barrier gate fixing
Resin Development
Waterproof barrier gates need to withstand heavy flooding on it. The firm and seamless connections of the gate and ground are important. If not strong enough, the barrier gates might collapse when flooding. Thailand customer use GU-100 polyester chemical anchor to fix the barrier gates. In this project, using chemical anchor is better than expansion bolt as it can increase the bonding strength of the bolt for extra weight loading. Expansion bolt can't stand heavy weight for long term, the fixing might fail.
Related Products