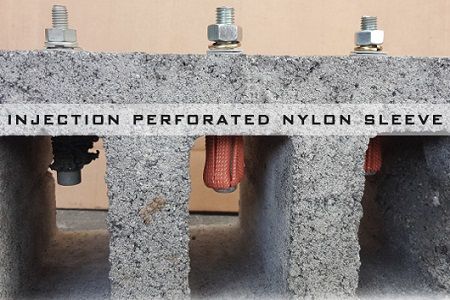 Nylon Sleeve For Hollow Brick
M8-M14 Anchor sleeve nylon for chemical injection
Nylon sleeve is designed to hold anchor bolt and chemical anchor in perforated substrate which is a non-expansion anchor fixing. Nylon sleeve is made by plastic with lattice structure and it is light. When fixing anchor stud on hollow substrate, the nylon sleeve is the component to store the chemical anchor resin and to provide secure anchoring point. With its mesh design the resin can pass through into the voids of the hollow substrate and once the resin is cured, it spreads the load of the anchor stud securely and strongly. No expansion or crack under the heavy loading.
---
Nylon sleeve is a great accessory to increase the anchorage on hollow brick, perforated brick, hollow masonry, honeycomb brick, cavity brick, and structural bricks. Nylon sleeve is also very common to apply for hanging and mounting in wooden projects, interior fixtures, garden decoration and for gripping anchor before glue hardened during ceiling fixing.Good Use nylon sleeve is designed by ourselves and made at our own injection factory.
3 size of nylon sleeves are available now!
M15X85 mm for M8-M10 rod
M20X85 mm for M12-M14 rod
Good Use E-Catalog
Find our full catalog of chemical anchoring range

Download
Nylon Sleeve For Hollow Brick | Chemical Anchor Manufacturer - Good Use
Good Use Hardware Co., Ltd. is one of prime Nylon Sleeve For Hollow Brick | chemical anchors suppliers based in Taiwan since 1997.
Certified chemical anchor solutions with wide selections of adhesive materials including epoxy anchors, concrete anchors, resin anchors for heavy loads in rebar application, diamond drilled holes and anchoring in solid concrete. Non-drip formula, ideal for overhead installation. Chemical anchor bolt and anchor fixings included for efficient, hassle-free, labor-saving chemical anchoring.
Good Use has been offering customers certified tested high-quality chemical anchors. Both with advanced technology and 20 years of experience, Good Use ensures each customer's demands are met.