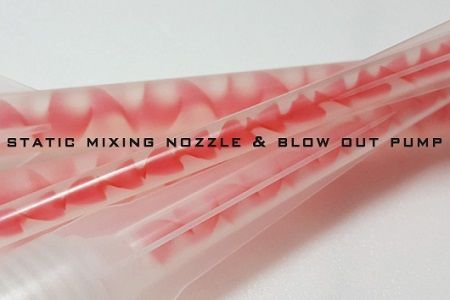 Mixing Nozzle and Drilled Hole Cleaning Tools
Accessory for chemical injection resin
Two components chemical anchor needs to be mixed before it works. The mixing nozzle plays key role in installation. Once the chemical anchor mixed well through mixing nozzle, it will start curing. Installation for different applications require different working times. It is important to know your installation time to make sure the resin would not harden in the mixing nozzle. If the installation time required longer or if one cartridge cannot be finished one time, you would need spare mixing nozzle for next usage.

Mixing nozzle for chemical anchor is designed by ourselves and made at our own injection factory.
2 different sizes are available now.

Cleaning drilled holes is the must-do action before installation. Otherwise the dust will lower the bonding strength of the chemical anchor adhesive, so blow-out pump and steel brush are definitely the key tools that you must have for installation. Firstly, use the blow-out pump to blow out the dust, and then use steel brush to clean the remain dust. Repeat the two steps and make sure the drilled holes are cleaned.

Good Use Hardware supply various sizes of steel brush and blow-out pump for different applications and installations.
---
Good Use E-Catalog
Find our full catalog of chemical anchoring range

Download
Mixing Nozzle and Drilled Hole Cleaning Tools | Chemical Anchor Manufacturer - Good Use
Good Use Hardware Co., Ltd. is one of prime Mixing Nozzle and Drilled Hole Cleaning Tools | chemical anchors suppliers based in Taiwan since 1997.
Certified chemical anchor solutions with wide selections of adhesive materials including epoxy anchors, concrete anchors, resin anchors for heavy loads in rebar application, diamond drilled holes and anchoring in solid concrete. Non-drip formula, ideal for overhead installation. Chemical anchor bolt and anchor fixings included for efficient, hassle-free, labor-saving chemical anchoring.
Good Use has been offering customers certified tested high-quality chemical anchors. Both with advanced technology and 20 years of experience, Good Use ensures each customer's demands are met.